Events Page
10th Anniversary Celebration
Creativity Takes Courage: An Evening with Kwame Alexander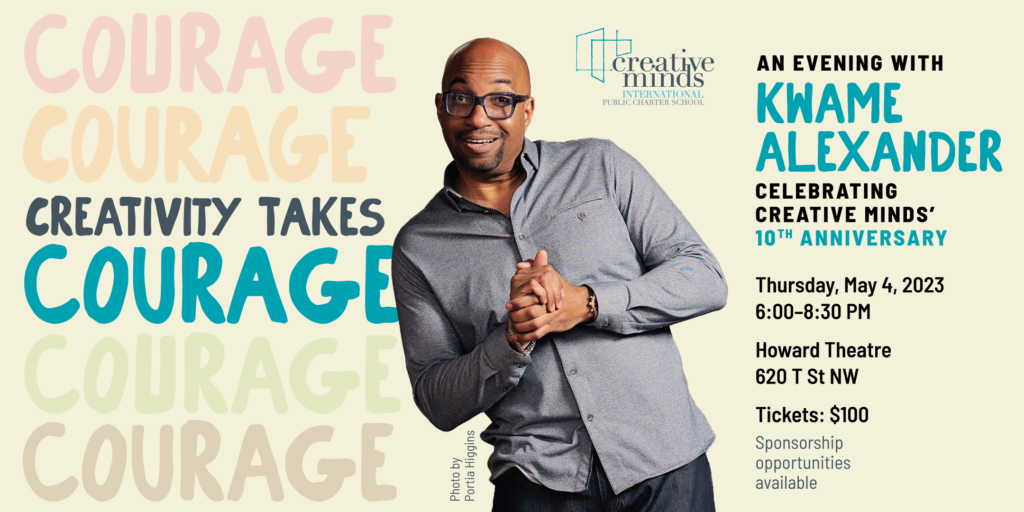 Our event at the Howard Theater, "Creativity Takes Courage – An Evening with Kwame Alexander," embraces all the magical things that make Creative Minds a genuinely unique school reflected in its mission:
To cultivate within ALL of our students the mindset, skills, creativity, and commitment to equity essential in becoming globally aware and independently minded citizens.
Kwame Alexander is an award-winning poet, educator, publisher, and New York Times Bestselling author of 36 books. He is the writer and executive producer of THE CROSSOVER TV series premiering on Disney+ this April.
Please show your commitment to education by agreeing to participate as an event sponsor at one of the levels on the attached Sponsor Page. The proceeds from this event will permit us to continue and expand upon our mission.
Sponsorship Opportunities: Sponsorship Registration Form
For ticket purchases: Guest Tickets
For additional information, please contact Margaret Ward, Director of Development, at development@creativemindspcs.org or 202-588-0370 ext. 124.