Board of Trustees
The Creative Minds Board of Trustees comprises 13 volunteers from within and outside the school community. The board holds Creative Minds and its mission and future in trust as it creates policy, exercises fiduciary responsibility to the school, and delegates the operational and educational functions of the school to the executive director.
To contact members of the board, please email board@creativemindspcs.org.
Board Meetings
Board meetings take place on Mondays, from 6:00 p.m. to 8:00 p.m., and are open to the public; we share information with our community the week before each meeting.
Recordings of online board meetings are available upon written request. To submit a request, please email board@creativemindspcs.org and frontdesk@creativemindspcs.org.
This is the board of trustees meeting schedule for 2023-24:
October 23, 2023
December 11, 2023
February 12, 2024
May 20, 2024
June 24, 2024
Meeting Minutes
Board Bylaws
Read the fourth amended and restated bylaws of the Creative Minds Board of Trustees.
Board Members
Tim Abram
Member of Governance Committee
Tim Abram is the director of policy at the Charter School Growth Fund (CSGF), a nonprofit that identifies the country's best public charter schools, funds their growth, and helps to increase their impact. Prior to joining CSGF, Tim was the associate policy director at the Foundation for Excellence in Education (ExcelinEd), where he led the organization's private school choice policy portfolio. Before ExcelinEd, Tim worked as a public policy manager at VIPKid and as a United States history teacher through Teach For America. Tim was a public policy fellow at the National Alliance for Public Charter Schools and a Teach For America Capitol Hill fellow. He is a graduate of the University of Mississippi and has a MEd from the Harvard Graduate School of Education. Tim serves on the boards of Mississippi First, Man Up Teacher Fellowship, and EducateU. Tim resides outside Frederick, Maryland, with his wife and son.
Kelly Carroll
Kelly Carroll is a Partner in the Washington, DC, office of a national health law firm. Her practice focuses on Medicare and Medicaid reimbursement, and she regularly represents hospitals and other healthcare providers in federal courts and before administrative agencies. Kelly also advises providers and state agencies on matters involving federal funding of Medicaid programs and disputes with the Centers for Medicare & Medicaid Services (CMS), in addition to offering guidance on legal and ethical issues relating to informed consent and clinical research. Prior to her legal career, Kelly conducted NIH-funded bioethics research at the University of Pennsylvania and Saint Louis University, and she served as the managing editor of a peer-reviewed bioethics journal. Kelly holds a BA in Religion from Haverford College, a JD from Saint Louis University's School of Law, and a master's in bioethics from the University of Pennsylvania. She lives in the Columbia Heights neighborhood of Washington, DC, with her husband and two young sons, both students at Creative Minds.
Michael J. Curran
Board Treasurer / Chair of Finance Committee
Michael J. Curran blends his legal, teaching, leadership, and management experience to help individuals and organizations reach their full potential. He leverages his extensive background in growing, improving, and leading companies and business units by working with people who desire to realize higher levels of satisfaction and potential.
Michael's work includes coaching and consulting for individuals and organizations, helping them develop personal, organizational-strategy, business-solution, and overall goals. Through his teaching, consulting, and facilitation, he helps people find new insights into how each person and organization can find more personal satisfaction and organizational success through changes in how people think and work together.
Michael earned his MPA at Harvard University, his JD at the University of Louisville, and his BA at Bellarmine University and holds a certification in leadership coaching from Georgetown University. He is also an adjunct professor in the Masters of Real Estate Development program at George Mason University. He is chair of the finance and audit committee of the Charter School Development Corporation and is a member of the Greater Washington Board of Trade, Federal City Council, Economic Club of Washington, and the Urban Land Institute.
Michael is an avid distance runner. He collects contemporary art and photography, plays the guitar, and is a photographer.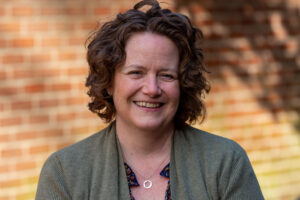 Heather Curtis                                            Member of Growth Advisory Group
Heather Curtis is a database manager at the United States Holocaust Memorial Museum, where she maintains the data of the collection on record of the Holocaust, including art, film, objects, textiles, interviews, recorded sound, and documents. She has worked in a variety of roles in cultural institutions throughout her career. Heather received her BA in history from the University of Florida and a master's in museum studies from George Washington University. She lives in the North Michigan Park neighborhood of Washington, DC, with her husband, David, and her son, Aden, a student at Creative Minds.
Imani Davis
Member of Academic Excellence Committee
Imani Davis has more than 20 years' experience in the for-profit, nonprofit, and government sectors. She has worked in more than 17 "developing" countries, leading grassroots initiatives and managing budgeting, HR matters, and intercultural-diversity and inclusion initiatives. Imani was a founding member and co-president of Sankofa, a federal-employee resource group, and recently served as director of management and operations for the US Peace Corps program in Belize. After returning to the US, Imani shifted gears and dedicated two years to homeschooling her three children.
Imani is currently a Shriver Peaceworker Fellow at the University of Maryland, Baltimore, pursuing an MSW. She works for the Mayor's Office of Homeless Services in Baltimore.
During her free time, Imani enjoys spending time outdoors, practicing yoga, and traveling. She lives in Washington, DC, with her husband and three children.
Dr. Art Fields
Member of Academic Excellence Committee
Dr. Art Fields has more than 25 years' experience in the field of education and is the CEO for Innovative K12 Solutions, a company he founded after retiring from District of Columbia Public Schools. He believes that a child's zip code shouldn't define their success and that educational practices must be equitable and inclusive.
Before retiring from DCPS, Dr. Fields served as chief integrity officer, supporting school leaders in working with parents, staff, students and education stakeholders in addressing school-based concerns and facilitating systems improvement to support administrators and reconcile issues through coordination with internal offices and external partners. Leading up to this role, Dr. Fields served as special advisor to the chancellor and led the School Culture Division, where he was responsible for building healthy school climates, including providing supports to address student attendance and truancy, managing school disciplinary issues in reducing the number of suspensions, and supporting LGBT youth and parenting students to improve their academic experience and educational outcomes.
During his tenure at DCPS, Dr. Fields also served as the senior executive director of related services, supervising all related-service providers across Psychology, Social Work, OT/PT, and Speech-Language Pathology teams and ensuring assessment timeliness and optimal service delivery for students receiving special education services. Dr. Fields received his MSW from Howard University, his PhD from Capella University, and an executive master's in leadership from Georgetown University.
Corey Gordon
Chair of Academic Excellence Committee / Member of Growth Advisory Group
Corey Gordon is a founding principal and the CEO of DeliverEd, an organization that supports education leaders in effectively planning for and managing change. In this role, she manages many of DeliverEd's partnerships with charter schools, district superintendents, and nonprofit leaders. She is an expert at building relationships and a master facilitator, having taught the delivery approach to hundreds of educators across the country. Additionally, she serves as CFO, overseeing DeliverEd's contracting and financials.
Prior to starting DeliverEd, Corey worked for five years with the Education Delivery Institute, managing engagements with partners at all levels of the US education sector. She started her career as a special-education teacher in Metro Nashville Public Schools. Corey holds a BS in special education from Vanderbilt University and a master's in public policy from Georgetown University. She lives in the Petworth neighborhood of Washington, DC, with her husband, Peter; daughter, Alex; and son, Taylor. Corey joined the Creative Minds Board of Trustees in October of 2021.
Manny Hernandez
Member of Academic Excellence Committee
Manny Hernandez was born in El Salvador and migrated to Washington, DC, at the age of 11. His family supported five children by cleaning houses for minimum wage, so Manny always felt that he had the responsibility to keep studying and to give back to his community. After graduating from Bell Multicultural High School, he attended the University of the District of Columbia, earning a bachelor of music in music education in 2012 and a master of arts in early childhood education two years later. While going to school, Manny became a local musician, performing with Latin bands in venues across the DC area. He's still an active performer and is also a doctoral student in education leadership at the American College of Education.

Ebony Vines Jackson
Born and raised in the DMV, Ebony graduated from Duke Ellington School of the Arts and Howard University's Chadwick A. Boseman College of Fine Arts.
Over the past twenty-five years, Ebony has specialized in the administration of various industries, including the arts, non-profit management, workforce, and economic development from Los Angeles to Atlanta. During her tenure as Regional Liaison for Fulton County, GA, Ebony spearheaded multiple projects specializing in federally funded workforce development initiatives. As well as representing Fulton County on state and county initiatives hosted by County Commissioners, State Representatives, the Governor's Office, and regional partners. Ebony is employed by KRA Corporation, which contracts with federal and state agencies to provide workforce solutions for employers and employees nationwide. Ebony brings a love of the Nation Capital's past and present with a firm commitment to service. Motto: "If you don't stand for something, you'll fall for anything!"
Lynn C. Jennings
Member of Academic Excellence Committee
Dr. Lynn C. Jennings directs strategy and advocacy initiatives as senior director of national and state partnerships for the Education Trust, a leading national organization committed to eliminating education inequities, in P–12 and higher education, that disproportionately impact students of color and students from low-income backgrounds. In this role she has led the organization's growth into states by building and sustaining advocacy networks in 10 states, including establishing two Ed Trust state-based education hubs. Under her leadership, the Ed Trust has worked with communities, educators, policymakers, experts, and other key stakeholders on issues such as funding equity, educator diversity, college affordability, and accountability. Lynn developed her expertise in federal and state education policy as an education lobbyist and senior program manager at the Congressional Black Caucus Foundation. Currently, Lynn serves as president of the PTO at John Burroughs Elementary School. She joined the Creative Minds Board of Trustees in 2018 and currently serves as chair of the Academic Excellence Committee and on the Executive, Executive Director Search, and Strategic Planning Committees. Prior to entering the education policy space, Lynn taught American literature, African American studies, and women's studies courses at varied institutions of higher education, including Spelman College, Columbia College Chicago, and the University of Wisconsin-Madison. She earned a BA in English from Spelman College and her PhD in English from the University of Wisconsin-Madison. Lynn lives in Washington, DC, with her husband and two sons.
Navin Nayak
Board Chair / Member of Governance Committee
Navin Nayak has more than 15 years of experience in advocacy and elections with several organizations. Currently, he serves as the president of the Center for American Progress Action Fund. In that capacity, he oversees day-to-day management of the organization and helps create new programs and projects that will help the organization fulfill its mission. Previously, Navin served as the director of opinion research for Hillary Clinton's presidential campaign, where he oversaw all of the campaign's message research. He worked for eight years at the League of Conservation Voters, where, among several roles, he served as senior vice president for campaigns, overseeing all of the organization's electoral work. In addition to his advocacy experience, Navin worked as a donor advisor at Corridor Partners, where he provided strategic guidance to donors on their advocacy and electoral investments. He has a bachelor's degree from McGill University in Montreal and a master's in environmental studies from York University in Toronto. Navin joined the Creative Minds Board of Trustees in 2019.
Holly Oliver
Chair of Development Committee
Holly Oliver is an experienced philanthropic strategist and chief development officer with a demonstrated history of engaging the community in the work of important organizations. Skilled in budgeting, organizational management, communications, team building and leadership, Holly has worked tirelessly to advance the work of local nonprofits. She is the executive director of Dance Loft on 14, in Washington, DC, leading a talented team of visionaries to create a new net-zero, mixed-use building on the grounds of the organization's current home. The new space will house a performing arts center on the ground floor, with much-needed affordable apartments above. Before joining the team at Dance Loft, Holly worked as a consultant with both nonprofit and for-profit organizations, advising them on fundraising, organizational management, and community engagement. Previously Holly served as the chief development officer of Arena Stage, successfully growing annual contributions and launching the capital campaign. Before her time at Arena Stage, Holly was part of the fundraising team at a number of local theaters, including the Kennedy Center and Round House Theatre and worked with some of the many associations in Washington, DC.
Holly earned a BA from American University and lives in Washington, DC, with her husband and two daughters.
Lisa Raymond
Member of Finance Committee and Development Committee
Lisa Raymond has served as a leader, elected official, and advocate with a focus on under-resourced populations in the District of Columbia, with more than 25 years of experience in the nonprofit and government sectors. She is currently a philanthropy consultant for MedStar Health. Lisa's prior experiences in government include serving as president and Ward 6 member of the DC State Board of Education, chief of staff to the attorney general for the District of Columbia, and senior education advisor to the Council of the District of Columbia. In her role with the council, she led education-agency oversight and managed the legislative process for all education bills. Her nonprofit positions have included serving as deputy director for DC Action for Children and chief of staff of the See Forever Foundation. Lisa has also been a senior consultant for Collaborative Communications Group, where she provided strategic consulting to public-school superintendents and boards of education.
Lisa was one of the original leaders of the Cesar Chavez Public Charter Schools for Public Policy, helping to build the school from 60 students in 1998 to a charter school network. She served as the school's first public policy director, chief of operations, and chief operating officer. Lisa received a master's degree in public administration from Columbia University's School of International and Public Affairs and a BA in psychology from Indiana University.
Jennifer Wallace
Board Secretary / Chair of Governance Committee
Jennifer (Jenni) Wallace is deputy director of the Office of Sustainable Fisheries, NOAA Fisheries Service. As deputy director, her role is to manage and lead fishery conservation and management activities to ensure sustainable fisheries through effective national and office-level programs and policies. She began her career at NOAA Fisheries in 2002, as a presidential management intern. Jenni holds a BS in marine biology from Eckerd College and a master's of environmental management from Duke University. She lives in the Petworth neighborhood of Washington, DC, with her husband, Mike, and daughter, Evelyn, a student at Creative Minds. Jenni served as president of the Creative Families Association during the 2018–19 school year, immediate past president in 2019–20, and Creative Minds board liaison in 2020–21. She joined the Creative Minds Board of Trustees in the fall of 2019, as a parent member.
Creative Minds' Open Board Meeting Policy
The board's overall objective is to conduct school business in a transparent manner; many board documents, including financial statements, are available for viewing online. Creative Minds International is required to hold open board meetings, per the DC Open Meetings Act. We publish a meeting calendar to our website and send notifications of meetings, via ParentSquare, to our community at least two business days before the scheduled meeting. The board may hold closed-to-the-public executive sessions to discuss personnel issues, awards, or other matters of a confidential nature. This meeting schedule complies with Creative Minds' bylaws, which specify that there shall be at least six meetings of the board each year. Members of the Creative Minds community who wish to contact the board are welcome to do so at any time by sending an email to board@creativemindspcs.org.