Teacher Feature: Darvin Johnson
For this month's Teacher Feature, we interviewed Darvin Johnson, our fourth grade Math Teacher. In his interview, Mr. Johnson shares about the experiences that led him to become a teacher… despite some initial reluctance about his calling.
How did you feel about school when you were a child?
Honestly, I always loved school. I was the kid who was always seeking out my teacher – whether it was for academic help or just wanting that interaction. My mom is a teacher. She's in her 32nd year of teaching, so even when I came home from school, I was still learning something, and still hearing about the value of education. Actually, my mom and I are teaching the same grade right now, although she teaches literacy rather than math.
Throughout high school and college I was always very involved. I participated in band, both Marching Band and Symphonic Band, tennis, yearbook, and health club. When I got to college, I mentored first-generation students, served as an ambassador, and even participated in a modeling troupe just for fun!
Tell us about the moment you knew you wanted to be an educator.
I grew up wanting to do anything but teach.  Because my mom was a teacher, I was determined not to do what she did.
After I graduated from college with a degree in Biology, I interned at Disney's Animal Kingdom. There, I taught about wildlife conservation to groups of tourists. I interacted with people from every inhabitable continent: people of all races, people who spoke different languages. Being able to impact such a diversity of people, and be impacted by them, was amazing to me. I left work every day reflecting on how powerful this was. It's what made me realize that I wanted to teach.
In the classroom, you get to know your students on a deeper level and build a relationship that makes teaching that much more meaningful. I realized that was what I really had to do.   
Who was the most memorable teacher you ever had?
I've had a lot of great teachers, but if I had to narrow it down to one, I'd say Ms. Mella. She taught my Medical Lab class during my junior and senior year of high school.
Ms. Mella was so invested in every single one of her students: in their academics, in their home lives, in the things they did outside of the classroom. She had such a strong relationship with each of her students, and she created a real home environment inside the classroom. The way she taught was very hands-on. She made it impossible for us to come into her class and just sit there. She motivated us to really engage with the subject matter.
I try to emulate the way Ms. Mella built relationships with her students. For me, knowing who my students are and being able to relate to them is a key part of my teaching strategy. Building that level of trust is important to help the kids feel comfortable inside the classroom.
What has been the most surprising thing about working at CMI so far?
I don't know if it's a surprise exactly, but I've been excited about how supportive the parents have been in these first several weeks. They are so invested in our class. So many of them have checked in to see how they can support me, and it's a tremendous help. Having 40 parents have your back—it makes teaching that much easier.
Relationships with parents are really important. I believe in frequent communication and check-ins to let parents know how their kids are doing academically, as well as socially.  And I really value when parents let me know what's happening at home, because that helps me support the child at school.
What's your trademark as a teacher? What would we see in any classroom of yours?
Laughter. In any class of mine, you will see laughter—it may be me laughing at myself or the kids laughing with me. So far, it's been a lot of me laughing at myself, and less of the kids laughing at me. I'm still working on making some more of those moments happen.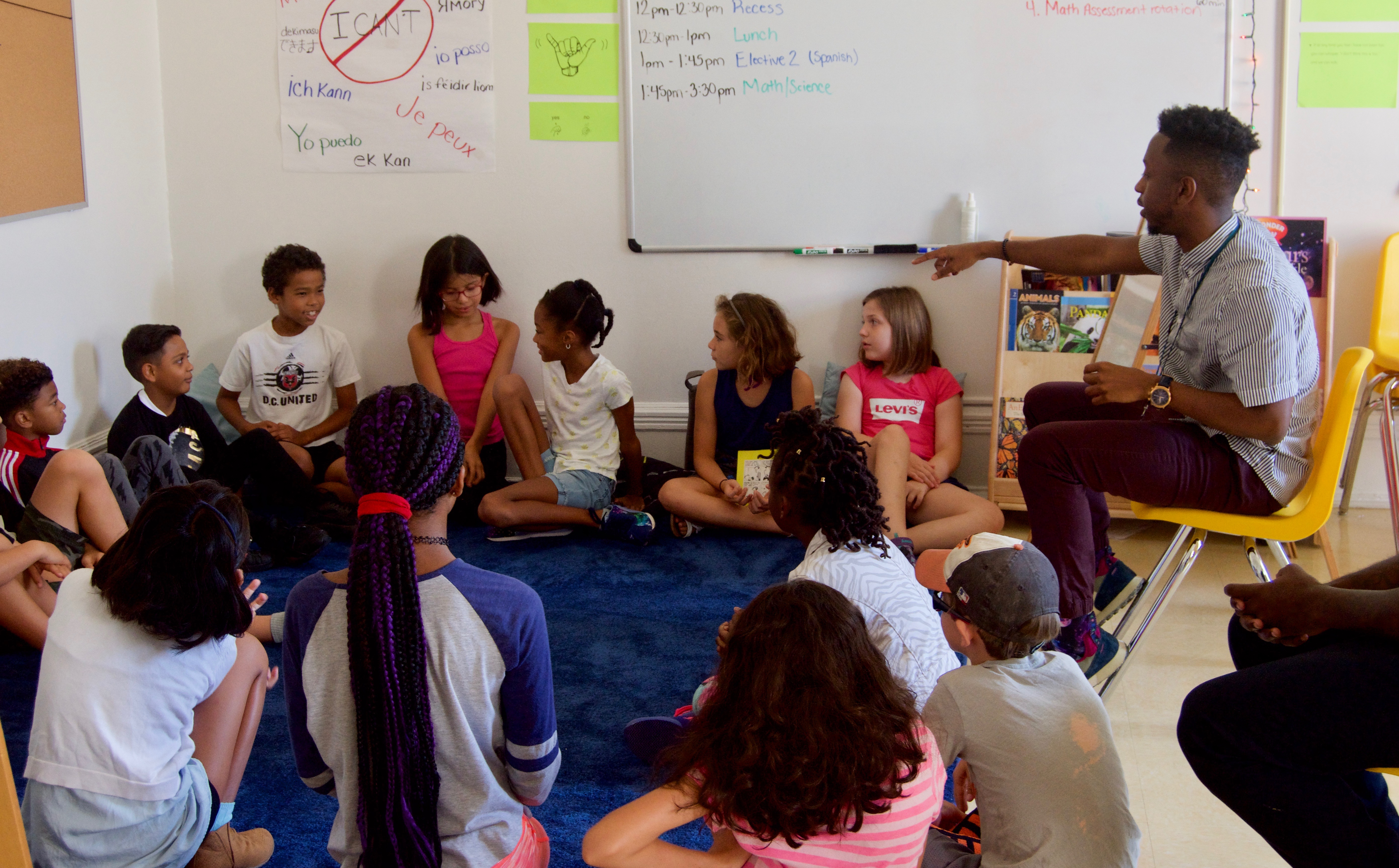 Mr. Johnson leads a morning meeting with his fourth grade homeroom.