Watch for a ParentSquare Invitation
September 13, 2021
Ready for ParentSquare?
In July, we sent an email with information about ParentSquare, the communications platform that we're introducing this month. ParentSquare posts will replace the messages from our operations, communications, and teaching teams that we usually send by email.
We are going to begin our ParentSquare implementation by using the platform for school-wide communications, like these. Teachers will start using ParentSquare for their classroom communications within the next couple of months.
To Do: Watch for an Invitation
On September 15, you'll receive an email or a text-message invitation from ParentSquare, depending on the contact information that's in our database. These invitations will go to the primary contacts of our students and contain instructions for setting up a ParentSquare account.
Here's what the email and text message will look like: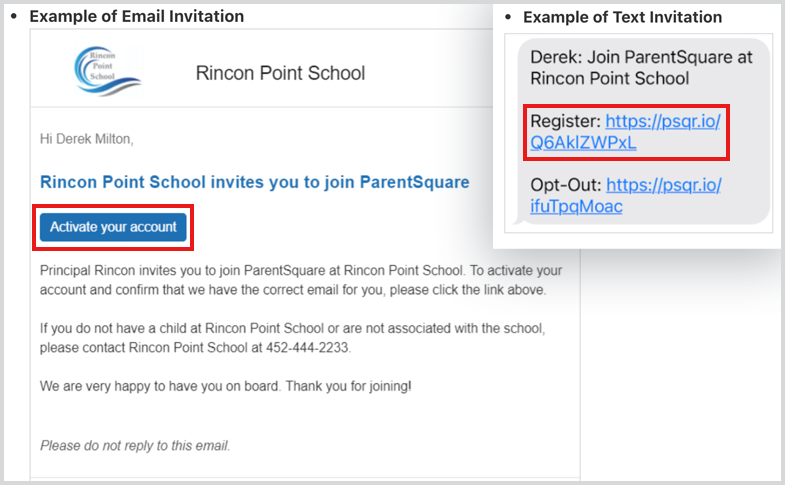 Today's Task: To help the ParentSquare invitation reach your inbox, please add "donotreply@parentsquare.com" to your email contacts or safe-sender list.
To Do: On September 15 Set Up an Account
To make sure you receive important information from Creative Minds staff and teachers in 2021–22, please set up a ParentSquare account when you receive the invitation on Wednesday, September 15!
If you're a parent or guardian who doesn't receive an invitation by the end of the day on September 15, please submit this request form.
Not receiving an invitation likely means that your email address or cell-phone number is not in our student-information system. Don't worry! We'll make sure that you get signed up.
Note: If you already have a ParentSquare account, you won't receive an invitation on Wednesday and should be able to start reading our posts.
Optional: Download the App
With the ParentSquare app, you can read all our posts, use the direct-messaging feature, fill out forms and access other documents, and receive notifications—all on your smartphone. Download the app for your Android device or iPhone and sign in after setting up an account on September 15.
More Information & Support
After you've set up a ParentSquare account, you'll be able to access a wealth of resources on the ParentSquare website.
We've also created these webpages to help you get started and find support:
If you have a question right now, please submit it through this form.
Join Us for a Webinar
We're hosting a webinar on September 21, at 6:30 p.m., to give an overview of ParentSquare and answer questions. Register here.