Letter from Chuck: Promoting Reading and Writing Skills and Celebrating Literacy
As we prepare for what promises to be a very fun Literacy Night, on March 5, I've been thinking about how we promote literacy learning among Creative Minds students of all ages.
When we talk about literacy, we're talking about the many skills involved in reading and writing. But how do we nurture a lifelong love of writing and reading so that students are excited to acquire knowledge, think critically, and express their ideas into high school and beyond?
Our Diverse Library
I'm delighted about the library that Andy Charrier, our director of IT and instructional technology, started as a small collection of books in his office and has grown through the generous donations of our community members. Andy's goal in creating the library was to offer middle school scholars books with diverse characters and stories in which our scholars could see themselves. As he says, "When kids say they don't like to read, it means they have not found the right book."
We now have more than 500 books, for readers of all levels, in our library and are seeing in students a passion for reading. Two of our 7th-grade scholars, on their own initiative, started a book club. Fifth-grade scholars continued their classroom learning, unprompted, by reading a library book on the Montgomery bus boycott. And on a recent Monday morning, a 7th-grader checked out two books (before 8:40 a.m.), so excited was she about the reading she'd done over the weekend.
When Newman Architects asked staff, students, teachers, and families what they'd like to see in an updated school building, an expanded library was at the top of the list—and we're working to incorporate this into our building plans. Expect more information in the coming months.
Reading Together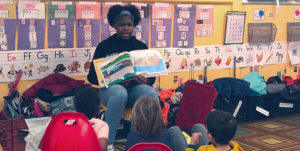 Our partner-reading project has brought together students in middle school and kindergarten, with 7th-graders reading to their younger peers. This project is inspiring our younger learners and building confidence in our older scholars. As kindergarten teacher Liz Rosenberg says, "I can't get over how amazing this partnership is for all of our kids and our school community."
Writing in the Classroom

Teachers are integrating writing tasks into students' subject learning in imaginative ways. Kristin Connolly prompted her 3rd-graders to share their physics knowledge by creating graphic novels: "While you are out on the playground, gravity/friction stops working. Write a graphic novel about what happens!"
Sixth-grade scholars in Lauren Lynn's class built content knowledge of books and worked toward writing their own essays by mapping out a story arc, creating summaries together, exploring imagery in text, and finding evidence to develop a claim. Scholars used the painted-essay format to differentiate the components of an essay.
Strong literacy skills are fundamental to whatever paths our students follow in their lives. These reading and writing skills are also at the heart of the critical thinking that makes us lifelong learners and responsible members of a community. I'm proud of the work our staff and teachers are doing to support students' learning. And I'm excited to see our students express their thoughts and discover the joy of reading.
I hope to see you at Literacy Night!
Best,
Chuck Jackson
Executive Director