Support for Using ParentSquare
Here are a few ways to get help with ParentSquare:
After You've Set Up Your Account
ParentSquare offers a support website filled with videos and resources to get you started and answer your questions. After you've set up a ParentSquare account and logged in, you can access the support website in two ways:
In a web browser: click the question-mark icon at the top of your screen and select "Help Articles."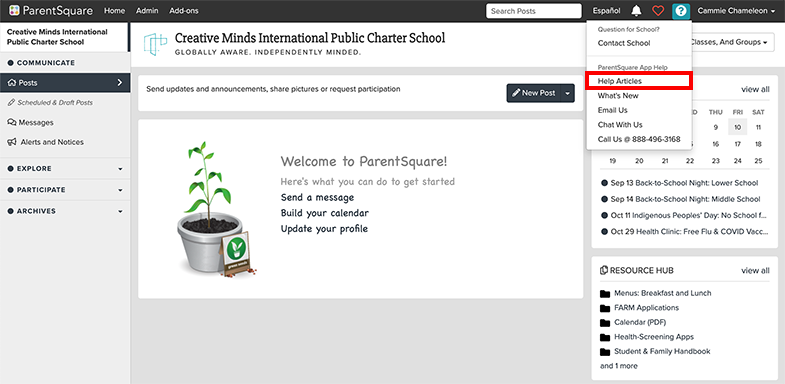 In the ParentSquare app: tap the three horizontal lines in the top left corner. > Select "Help." > Select "Help Topics."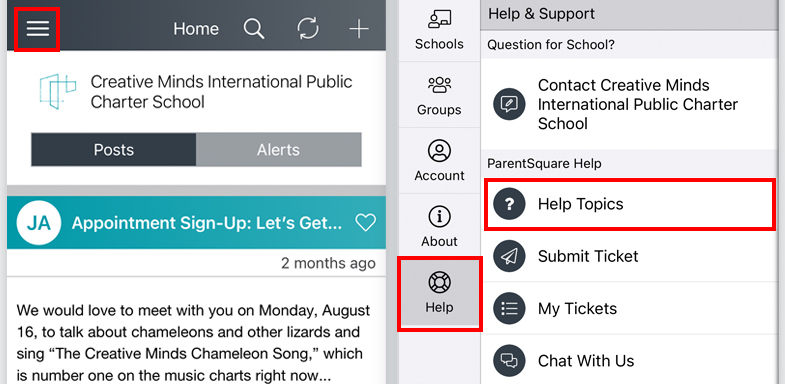 Join Us for a Webinar
In our ParentSquare webinar, we'll give a brief overview of the platform and then answer questions from participants.
ParentSquare for Creative Minds: An Overview
September 21, 2021
6:30 p.m.–7:30 p.m.
Register Here
Get One-on-One Assistance
If you have a question about or need help with using ParentSquare, please send a message to Jenn, our manager of marketing and communications, using this form. She'll be glad to help over email, a phone call, or a Zoom meeting.